Posted by Tori on Aug 21, 2012 in
beauty
Hello ladies! It's time for the August Birchbox review. I absolutely love getting these boxes and reviewing the products! If you are not familiar with Birchbox, you can check them out here. Here's how the subscription works: Each month, you receive a box filled with samples of high-end beauty and lifestyle products. You can subscribe for a whole year, or just try it out month-to-month. The boxes are $10/month & it's always a fun surprise to see what's inside! Once you get your Birchbox in the mail, you can sign in online for a list of the products you received, more information, videos on how to use the products, as well as the option to purchase them with free shipping during that month. With each product in your box, you also have the option to submit feedback and receive 10 points. 100 points are worth $10 for future redemption in the Birchbox shop on any product they carry or promote. Pretty neat! (And, if you save up your points, you could get your favorite item free!) Also, for each friend you refer to Birchbox, you will be rewarded with 50 free points! For more information, or to subscribe click here.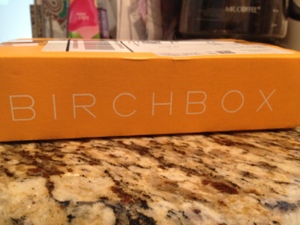 Here's what came in my box this month. As much as I adore Birchbox, this month was slightly disappointing compared to the boxes I've received in the past. But…it was still a lot of fun. 🙂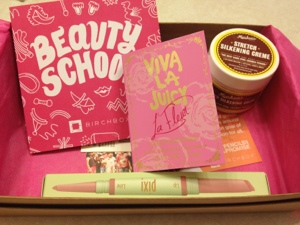 Schick | Hydro Silk Razor: The latest Birchbox Find. It's added to your normal box as a special find intended to benefit your daily beauty routine. It's affordable, and is supposed to help make your life happier and easier. I loved the razor. It wasn't much different from what I normally use. It delivers a smooth, close shave and does a good job keeping your skin moisturized for several hours after you shave. The moisturizing serum was my favorite part about this razor. I'm still using it – so I must like it 😉 It retails for $9.99 and you can pick it up pretty much anywhere.
Yu-Be | Moisturizing Skin Cream: This is a skin cream that has stood the test of time. It's been around over 50 years and is meant to add much-needed moisture to your troubled areas (chapped lips, elbows, heels, cuticles, etc.). It works great and is very gentle. Definitely does what it says it does and won't leave your skin feeling greasy. The full-size product retails for $16. Great find.
Juicy Couture | Viva la Juicy La Fleur: LOVE this fragrance. And apparently so do a lot of other people since it's currently backordered on Birchbox. Layered with of the original version of the scent's fruity notes are hints of honeysuckle, gardenia, and jasmine. It is a great sheer perfume that has quickly become one of my favorites. The full-sized product comes in a glass keepsake bottle with a pink ribbon and retails for $70.
Pixi | Beauty Lip & Line: I was impressed that Birchbox included a full-size product in the box. Good job, guys! Always love a bigger sample! I really liked the shade they sent too and love wearing it. On one end, you have a waterproof lip liner, and on the other, you have your coordinating lipstick. The product retails for $16, which I think it a bit of a joke since you can find this at Target for around $5. But, it is great and I'm glad it was included in the box.
Last, but not least, I have a confession. I have not actually tried the last product in the box yet, but I have a feeling I will love it. It's Miss Jessie's | Original Stretch Silkening Creme. In Birchbox's own words:
"The curly-hair experts at Miss Jessie's® continue to impress us with their problem-solving, hair-maximizing products. Their latest formula helps curls look their best by adding volume while boosting shine. It loosens and lengthens tightly wound curls without weighing hair down. It's great for the full spectrum of curly textures, from kinky coils to tight ringlets. This curl-enhancing cream stretches out each follicle for looser curls while adding volume and shine. Hydrolyzed wheat proteins and wheat amino acids fortify hair, while a team of moisturizing oils including coconut, jojoba, avocado, and olive add silkiness and softness."

Sounds like a winner, but I'll have to let you know once I try it.

So, there you have it. Another box of happiness delivered to my door courtesy of Birchbox. I'd love for you to subscribe and enjoy Birchbox with me!

~Tori