Posted by Tori on May 27, 2012 in
family.
Last week, our family was all scattered. I hadn't seen William in six days. William and Ayden hadn't seen one another in seven. And Ayden and I were apart for five. It was a nutty week, to say the least. Then, to top it all off, Ayden had gotten sick while he was spending the week with his great-grandparents. Poor little mister. Saturday, we were finally all together again as a famliy at William's parents' lake house. It was glorious. Ayden had his first ride on the boat and jet ski! (Sorry…mama fail! I have no pictures of this. But I think LeLe [Ayden's affectionate name for William's mom] might have snagged a few.)
We are still here, soaking up the south Georgia sun and loving every single second. So thankful I get to do life with these people.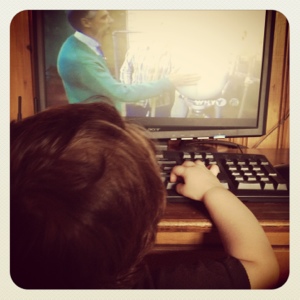 This is Ayden watching Mr. Rogers visit a dairy farm. It is by far his favorite episode. He always says, "Mommy, watch Mr. Rogers see cows!"