Posted by Tori on Nov 22, 2010 in
recipes.
This is way too good to keep all to myself. I found this recipe at Starbucks several years ago. It is absolutely amazing, and the holidays just aren't the same without it. I like to enjoy mine with a medium roast coffee. There's nothing quite like it. Try it out and I promise you won't be disappointed!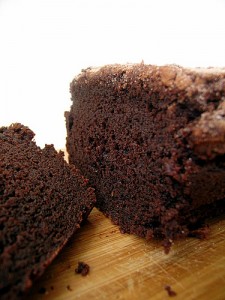 3 sticks

unsalted butter at

room temperature

3 cups granulated

sugar

5 large

eggs at

room temperature

2 cups

all-purpose flour

1-3/4 cups

Dutch-processed cocoa powder

1 Tbsp

ground cinnamon

1 teaspoon

salt

1/2 teaspoon

baking powder

1/2 teaspoon

baking soda

1 cup

buttermilk

1/4 cup

water

1 teaspoon

vanilla extract

Cocoa-Spice Sugar Crust
1/4 cup granulated

sugar

3/4 teaspoon

ground cinnamon

1/2 teaspoon

Dutch-processed cocoa powder

pinch

ground ginger

pinch

ground cloves

1/4 cup decorating or sparkle

sugar
Preheat oven 375 F. Grease two 9x5x3-inch loaf pans and line bottoms with parchment paper.

Make the Chocolate Batter: In the bowl of an electric mixer, cream together the butter and sugar with the paddle attachment on medium speed, until light and creamy, about 5 minutes. Add eggs one at a time, beating until each egg is completely incorporated before adding the next and scraping down the sides of the bowl several times.

Meanwhile in a medium bowl, sift together the flour, cocoa, cinnamon, salt, baking powder and baking soda. In another bowl, whisk together the buttermilk, water and vanilla. With mixer on low speed, alternately add the flour mixture and buttermilk mixture to butter, beginning and ending with the flour and beating just until blended. Divide the batter between the two pans, shake the pans to even the tops and set aside.

Make the Cocoa-Spice Sugar Crust: In another small bowl, whisk together the sugar, cinnamon, cocoa, ginger and cloves. Sprinkle the surfaces of both batters with the decorating sugar. Sprinkle with the cocoa sugar mixture, dividing evenly. Bake until a toothpick inserted in the center comes out clean, about 45-50 minutes. Let cool completely, run a thin knife around the sides to release the breads and remove from pans.

Approximately 16 servings. Prep Time: 30 minutes. Cooking Time: 50 minutes.