Posted by Tori on Dec 17, 2012 in
beauty
I really love getting happy mail from Birchbox every month. If you are unfamiliar with Birchbox, you can check them out here. This is how the subscription works: Each month, you receive a box filled with samples of high-end beauty and lifestyle products. You can subscribe for a whole year, or just try it out month-to-month. The boxes are $10/month & it's always a fun surprise to see what's inside! Once you get your Birchbox in the mail, you can sign in online for a list of the products you received, more information, videos on how to use the products, as well as the option to purchase them with free shipping during that month. With each product in your box, you also have the option to submit feedback and receive 10 points. 100 points are worth $10 for future redemption in the Birchbox shop on any product they carry or promote. Pretty neat! (And, if you save up your points, you could get your favorite item free. This month, I used my points to purchase a 3 month gift subscription for a friend!) Also, for each friend you refer to Birchbox, you will be rewarded with 50 free points! For more information, or to subscribe click here.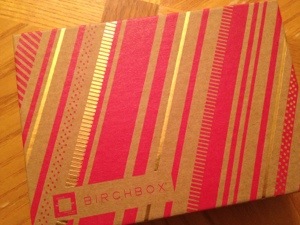 Here's a look at what was inside my December Birchbox:
Juicy Couture | Juicy Couture: It's always fun to get a fragrance in your Birchbox. I really do like this one too. It's not too overpowering and it's something appropriate for day or night. It's very feminine with combined notes of watermelon, passion fruit, mandarin, marigold, and green apple with undertones of rose, vanilla, and caramel. The full-size 3.4 oz bottle sells for $90. While I do love the scent, I'm not sure if I would love it enough to commit to a $90  investment. (I guess I'm just not much of a perfume girl.)
Tea Forté | skin-smart Teas: These are green tea blends that are supposed to improve the health of your skin. Birchbox sent three bags to sample. I have only tried one, Cherry Marzipan, and to be honest, I was not a fan. I didn't finish the whole cup. They also sent Cucumber Mint, and Honey Yuzu. Each flavor is designed to help your skin in a different way. I am hoping that I'll enjoy the others a little more. A 16 bag container retails for $6, so if you enjoy the tea and want to improve your skin at the same time, this is not a bad deal!
 per-fékt Beauty | Lash Perfection Gel: This is a non-allergenic (yay!) mascara designed to prime, condition, darken, and lengthen your lashes. I have enjoyed using this one a lot. It doesn't clump or smudge, and gives your lashes a natural look. The full-size product sells for $28.50, which is more than I like to spend on mascara, but overall, it's a nice product.
Number 4 | Clarifying Shampoo: This is a great shampoo to restore health and shine to your hair after a week of product build-up and styling stress. You may use it as a weekly clarifying shampoo, but it is also safe to use every day. It will cleanse your hair and give it a "fresh start" without stripping your hair of moisture and essential oils. The full-size product retails for $32.
Frownies | Eye Gels: Ok, this one might just be my favorite! I have no way to tell if it actually "works," but who cares! It feels amazing. Here's the scoop. The ingredients of these under-eye gel patches are said to reduce puffiness and dark circles, increase radiance, slow aging, all while working to smooth fine lines and wrinkles. The eye gels are curved to fit underneath and beside your eyes. They are to be worn for 30 minutes at a time, and they can also be rehydrated an refrigerated for up to three uses. It is recommended to wear these for three consecutive days to begin, and then repeat weekly. These are almost as good as that gel mask my grandma used to refrigerate and wear before bed (anyone?). I have really enjoyed these as a way to relax before bed. A set of three sells for $29.95, which isn't bad considering the gels can be used up to three times before discarding. So, the set should last you about seven weeks if you wear them as recommended.
So, there you have it – my December Birchbox! I hope you'll subscribe and let me know what goodies are in your box! Happy sampling!