So, I thought my June Birchbox was fun, but I have absolutely loved everything in my July Birchbox!! If you aren't familiar with Birchbox, check them out. I know you will love them! Here's a little about how it works: Each month, you receive a box filled with samples of high-end beauty and lifestyle products. It's such a neat treat (especially for a mama of 3 under 3 who doesn't get out much) to receive brand new beauty products each month. Each box is just $10 & it's always a fun surprise to see what's inside! Once you get your Birchbox in the mail, you sign in online for a list of the products you received, more information, videos on how to use the products, as well as the option to purchase them with free shipping during that month. With each product in your box, you have the option to submit a small review and receive 10 points. 100 points are worth $10 for future redemption in the Birchbox shop on any product they carry or promote. Pretty neat! (And, if you save up your points, you could get your favorite item free!) For more information, or to subscribe click here.
Birchbox teamed up with Glamour this month to offer a box that provides an experience for each of our five senses.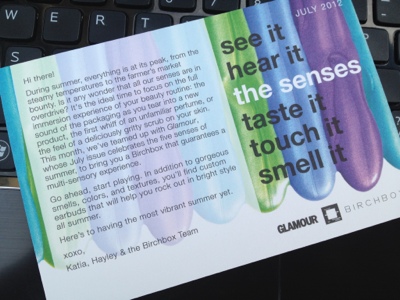 So…what was in my July box, you ask?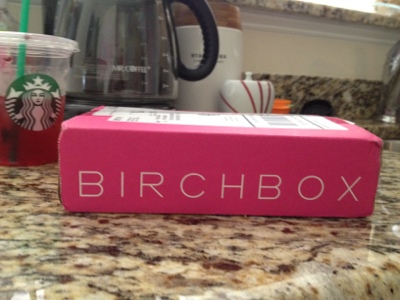 Color Club | Blue-Ming: A bright, summery, green-turquoise nail polish. This polish definitely screams summer fun! I loved having it included in the box. The full-sized product is just $8! Can't beat it! This one was definitely a winner for me.
Gloss Moderne | High-Gloss Masque: This is a vitamin-rich conditioning cream to restore shine, and replenish hair after exposure to sun, heat, & pollution. You apply it in the shower to rinsed hair for five minutes and then rinse it out. I have enjoyed using this one. I let it replace my Moroccan Oil and it did a decent job. The full-sized product retails for $39. I'm enjoying the sample, but plan to return to my Moroccan Oil for the long-term.
Harvey Prince | Eau Flirt: This is a flirty perfume with layers of citrus & jasmine over a base of lavender & pumpkin. Sounds iffy on paper, at least to me, but it actually is quite nice. It's light, youthful, and absolutely perfect for summer! The full-sized products range in price from $55-$98. It's definitely a product I'll keep in the back of my mind next summer when I'm shopping for a new fragrance.
Manna Kadar | sheer glo shimmer lotion: This shimmery lotion can be combined with your foundation, or used alone as a highlighter to cheeks and browbones, or can be used as a lotion anywhere you would like to boost radiance without adding shine. This one was fun to try. It feels light on the skin, and really achieves the look it advertises. It reminded me of a tinted moisturizer I used to use and really loved. It retails for $29. Not too bad, but not something I'm ready to add to my daily routine.
suki | Balancing Kit: This came as an all-in-one set with the goal of calming, and purifying your face, leaving it smooth, hydrated, and healthy. It was fun to get an entire set to try all at once (cleanser, clay, toner, moisturizer, etc.). The full-sized set is $40. You get everything you need to care for your skin from morning till night. So, it really is a nice value.
LÄRABAR | über: So, I'll admit, it was super fun to get to try a new snack in my Birchbox! These bars come in four flavors: Roasted Nut Roll, Apple Turnover, Bananas Foster, and Cherry Cobbler. I sampled the Roasted Nut Roll and it was tasty! Loved it! You can buy a variety pack of the bars (16) for $27.95. A bit steep for a snack, but if you buy me one, I'll eat it!!
Birchbox Exclusive | Earbuds: As an added bonus in the box, I received a pair of earbuds! How fun?! They are cute, bright neon green and pink. I am keeping them in my purse and have loved using them! Thanks, Birchbox! (Retail, $0.)
Overall, this box gets an A! I would love for you to sign up and enjoy Birchbox with me! Can't wait to see what's next!