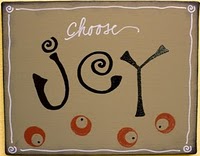 Though the fig tree does not bud
and there are no grapes on the vines,
though the olive crop fails and the fields produce no food,
though there are no sheep in the pen and no cattle in the stalls,
yet I will rejoice in the Lord,
I will be joyful in God my Savior.
The Sovereign Lord is my strength;
he makes my feet like the feet of a deer,
he enables me to go on the heights.
Habakkuk 3:17-19a
Over the past few weeks, for whatever reason, I have returned to these verses over and over. They are such a sweet encouragement to my soul. They remind me that He is ALWAYS enough. Sometimes I just need to let this truth sink in.
He is enough for today.
He is enough for tomorrow.
He is enough for what I don't see.
He is my reason to REJOICE.
Resting in this truth and in His JOY today! Thanks, Lord.