Posted by Tori on Dec 16, 2011 in
recipes.
I wanted to share the cookie recipe I used the other day! It is actually a Starbucks recipe, and it is extremely amazing, not to mention super easy!! Enjoy!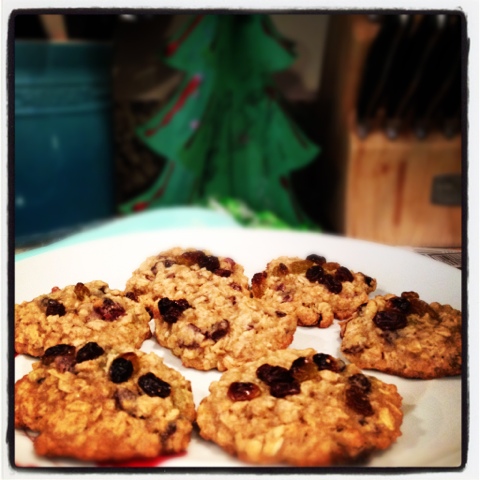 Outrageous Oatmeal Cookies
1 1/2 C old fashioned rolled oats (not quick-cooking)
1/2 C all-purpose flour
1/4 C dark raisins
1/4 C golden raisins
1/4 C dried cranberries
1/4 tsp baking powder
1/4 tsp baking soda
1/2 tsp salt
6 tbsp unsalted butter (room temperature)
1/2 C packed brown sugar
1/4 C granulated sugar
1 egg
1/2 tsp ground cinnamon
1 tsp pure vanilla extract
Preheat oven to 350F. Combine oats, flour, raisins, cranberries, baking powder, baking soda, and salt in bowl and set aside. In another bowl, beat butter and sugars until light and fluffy. Beat in egg, cinnamon, and vanilla until combined. Gradually beat in oat mixture until combined. Drop dough by rounded tablespoon-fulls, 2 inches apart, onto cookie sheet. Top each mound of dough with a few raisins. Bake approximately 12-14 minutes, until golden brown, but still soft.
Hope you love the cookies! Merry Christmas!