Welcome aboard, sisters! I am SO glad you're here. I cannot tell you how thrilled I am about this study. We are going to have a blast! For all of you big-picture, detail-oriented folks like me, here is a look at my vision for this study over the month of June.
We will be reading through Love Does by Bob Goff together. The book has 31 short (as in an average of 5 pages) chapters that each tell a story from Bob's life and explain some of what he's learned about love and knowing God. I have broken the chapters down according to what we will discuss at each interval. Our discussion will be mainly over the themes and ideas in Bob's book, so there is absolutely no pressure if you aren't up to speed on the reading. You will definitely be able to jump in on the discussion without feeling left in the dark! Also, I have made the reading very manageable so we're never reading more than one chapter a day. Here's the breakdown: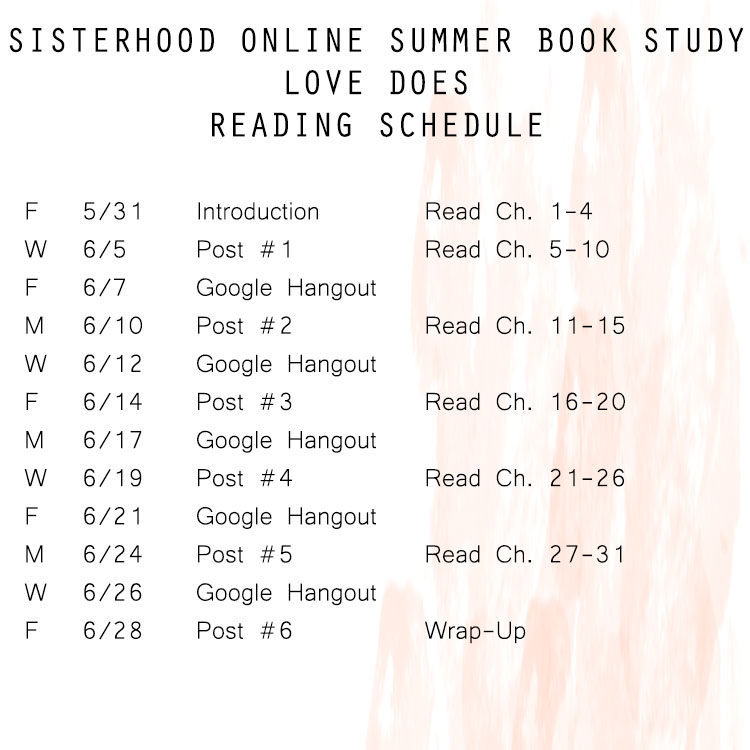 You can download a PDF copy of the schedule here.
The discussion will be held primarily through the comments. I have tried to make leaving comments simple. Just click on the number in the circle at the bottom right of the post. You'll be asked to enter your name, and your email address (this will not be shared or visible at all). Then, you'll be able to enter your comment. Below the comment field, you'll see a simple addition or subtraction equation. By filling in the correct answer in the blank, your comment will automatically be submitted. You also have the option to receive future comments or replies via email. Easy peasy! Since this will be the bulk of our interaction together, please take advantage of it. We will all benefit more from this study if each one of us engages in the comments.
You'll see on the schedule that I will be hosting Google Hangouts throughout our study. These are entirely optional, and are designed to be a time for you to connect with other women from the study in a small group setting without having to meet together at a physical location. If you're planning to attend a Hangout, I'll ask you to RSVP closer to time. The Hangouts will be held in the evening, but the times may vary depending on the date.
For today, introduce yourself in the comments with your name, location, one interesting thing about yourself, and what you're most looking to get out of this study.
Now, go out and grab a copy of Love Does this weekend, and read over chapters 1-4! I can't wait to connect again on Wednesday and talk about what we've learned.