Y'all, I have been so excited for a while now to share this with you! My friend, Brittany, works with a mission in Port-au-Prince, Haiti called REBUILD Globally. They are a socially conscious business operating in Port-au-Prince to provide dignified, living-wage employment to earthquake survivors. Their REBUILDER, recycled tire sandals are designed by Haitian artisans. They are handmade with the highest quality craftsmanship, using recycled tires for the sole, and recycled leather for the uppers and straps.
100% of proceeds from sandal sales go back into the team's community development initiatives, which provide basic needs, education scholarships, and job skills training to vulnerable youth in the community. You can read more about REBUILD Globally, their products, mission, and apprenticeship initiatives on their website: rebuildglobally.org, and be sure to follow them on Twitter. If you're interested in getting involved even more, consider hosting a sandal party.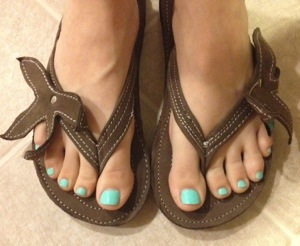 This is such a great mission and I am so honored to be able to blog about them and share them with you! I absolutely LOVE my sandals, and, even more than that, I love what they accomplish, and that they are so much more than just a cute pair of summer shoes.
Charleston friends – good news!! – you can buy your own pair locally at McKevlin's Surf Shop on Folly Beach!! If you're not local, you can also order online.
Have a great summer — and go buy a pair of tire sandals!!