Posted by Tori on Dec 11, 2012 in
recipes.
It's that time of year again!! Time for filling your home with the smell of freshly baked confections to share (or not), and time for trying out some new recipes that just might turn into family traditions. So, I wanted to share two of my holiday recipes with you. The first is one that has been a favorite of ours for a long time, and the second is one that is brand new to me this year.

I originally found this recipe at Starbucks when William and I were first married. It is absolutely amazing, and the holidays just aren't the same without it. I like to enjoy mine with a medium roast coffee. I try to make several batches each year so we can enjoy some, and for us to share as gifts with friends. There's nothing quite like it. Try it out and I promise you won't be disappointed!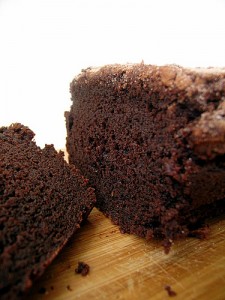 3 sticks unsalted butter at room temperature

3 cups granulated sugar

5 large eggs at room temperature

2 cups all-purpose flour

1-3/4 cups Dutch-processed cocoa powder

1 Tbsp ground cinnamon

1 teaspoon salt

1/2 teaspoon baking powder

1/2 teaspoon baking soda

1 cup buttermilk

1/4 cup water

1 teaspoon vanilla extract
Cocoa-Spice Sugar Crust
1/4 cup granulated sugar

3/4 teaspoon ground cinnamon

1/2 teaspoon Dutch-processed cocoa powder

pinch ground ginger

pinch ground cloves

1/4 cup decorating or sparkle sugar
Preheat oven 375 F. Grease two 9x5x3-inch loaf pans and line bottoms with parchment paper.

Make the Chocolate Batter: In the bowl of an electric mixer, cream together the butter and sugar with the paddle attachment on medium speed, until light and creamy, about 5 minutes. Add eggs one at a time, beating until each egg is completely incorporated before adding the next and scraping down the sides of the bowl several times.

Meanwhile in a medium bowl, sift together the flour, cocoa, cinnamon, salt, baking powder and baking soda. In another bowl, whisk together the buttermilk, water and vanilla. With mixer on low speed, alternately add the flour mixture and buttermilk mixture to butter, beginning and ending with the flour and beating just until blended. Divide the batter between the two pans, shake the pans to even the tops and set aside.

Make the Cocoa-Spice Sugar Crust: In another small bowl, whisk together the sugar, cinnamon, cocoa, ginger and cloves. Sprinkle the surfaces of both batters with the decorating sugar. Sprinkle with the cocoa sugar mixture, dividing evenly. Bake until a toothpick inserted in the center comes out clean, about 45-50 minutes. Let cool completely, run a thin knife around the sides to release the breads and remove from pans.

Approximately 16 servings. Prep Time: 30 minutes. Cooking Time: 50 minutes.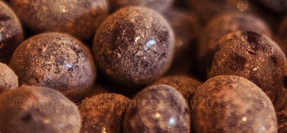 (Confession: this is another Starbucks recipe.)
What you'll need: your favorite chocolate, roasted coffee beans, cocoa powder.
How it's done:
1. Melt chocolate by breaking it into pieces and warming it slowly in a saucepan over a very low heat.
2. When the chocolate is melted, stir in the roasted coffee beans.
3. Keep mixing.
4. When they are coated with chocolate, lift them out with a spoon or fork and place them onto parchment paper.
5. Separate the beans from one another, then drop into cocoa powder and leave to harden.
6. Remove the beans with a knife and keep in a sealed container.
I hope y'all will enjoy these and make them a part of your holiday tradition. They make great gifts too!! Happy baking!